1x1 – Beats Working at a Hot Dog Stand
Vallery Irons, a woman who accidentally saves a celebrity, is then hired to be a real life bodyguard with an agency who solves cases.
Gesehen von 1 User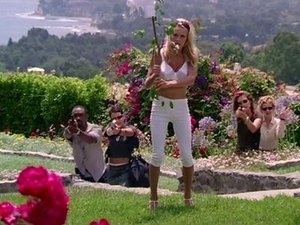 1x2 – What to Do with Vallery When You're Dead
The VIP team tries to interest media tycoon Viktor Balek to become their client. However measly Internet documentary maker Arnie Feign begs for their services pro bono, claiming Balek wants him killed by Thursday, when he'll have exposed him, which the professionals reject as paranoia. After Arnie's car is blown up, Val makes them agree: he can repay their services in kind, as Internet advertisement.
Gesehen von 1 User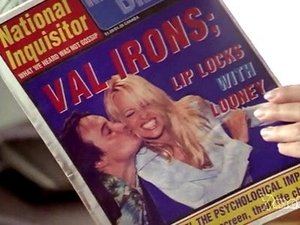 1x3 – Bloody Val-entine
VIP is hired by Ian Ziering as protection against stalking paparazzo Kip Lashane. Kay insists to 'take the lead' to spend time with her Beverly Hills 90210 idol, but that turns out to be a masked assassin. It's Tasha's ex peter 'the Owl', a former KGB killer hired by mobster Scornabacho to eliminate Lashane.
Gesehen von 1 User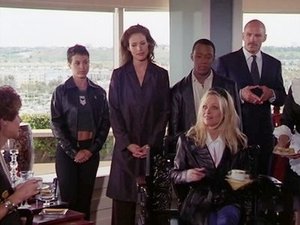 1x4 – One Wedding and Val's Funeral
Tasha expected King Solton of Ardenia to hire them out of gratitude for once helping to save his life, but it's Val's Hollywood fame which gets VIP hired. However Val's primary assignment is to act as royal matchmaker for Soltan's heir, prince Jordan. He's a good sport, who wants to modernize. Val keeps presenting him to commoners, even her waitress friend Maxine, but he picks slick Alex. VIP must ward off attacks from violent anti-monarchists, notably religious sect fanatics. Kay has romantic delusions about the prince. The court has its own hidden agenda, but ...
Gesehen von 1 User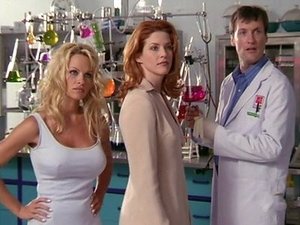 1x5 – Scents and Sensibility
Cosmetics and perfume firm Bioglam hires VIP to protect it against industrial espionage. A sample of the revolutionary pheromone product Kizmet has just been stolen during a break-in. Top priority however is the inventor, lab genius Ken Miller. He secretly tests it illegally, and is hence irresistible to most females. However his former lab protégé, Dr. Tina Stokes, sells the formula to arms dealer Wilgur, because of a side-effect: after repeated use it causes extreme aggression.
Gesehen von 1 User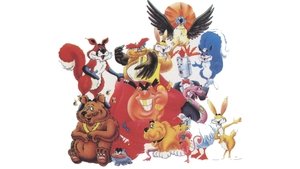 1x6 – Diamonds Are a Val's Best Friend
Walter Parsegian hires Val as armed escort for him and especially his recently acquired super-modified diamond Star of Neptune at a Beverly Hills party. It gets stolen using a sound device. Nicki recognizes her cousin Gino among the thieves. She brings the team to their family's mob capo, 'donny' Franco, who wants the diamond to return it to a Sicialian Virgin statue. Parsegian is suspected of insurance fraud. The four parties try to catch, trick out-smart each-other with arms and paste.
Gesehen von 1 User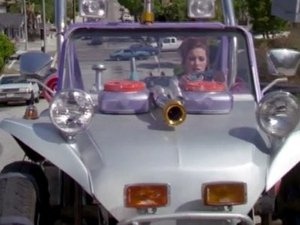 1x7 – Deconstructing Peri
Hollywood director Gil Rosen hires V.I.P. to protect his prima donna Star Fox SciFi star, Peri Woodman. She's the target of sabotage. First suspicion is a stalking fan. But her frat party animal boyfriend Ty Spencer may have been ignored too much. Or his dad, senator Barton Spencer, with presidential ambitions, is the most likely to feel threatened by her intended 'memoirs'. Val keeps meeting Barton's shady security chief, Mr. Banks.
Gesehen von 1 User
1x8 – Val Got Game
Idealistic basketball agent Phil Sherman hires VIP to protect his client Kirby, who is too dumb to distinguish between well- and ill-willed people. Ruthless rival Kent Breakstone will stop at nothing to eliminate Kirby as competition for his boy, suave Jimmie. Kay goes undercover to keep a close eye on Kirby, but the naive pair falls in love.
Gesehen von 1 User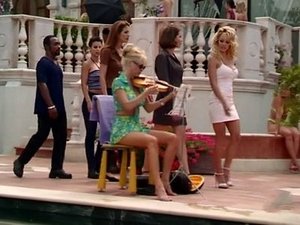 1x9 – Vallery of the Dolls
Rapper Coolio hires VIP, being threatened by a stalker with a bomb on her chest. Glamour magazine boss Gower Jantzen (RT) hires VIP to find his missing centerfold girls and protect the remaining millennium competition contenders. An Asian gang keeps kidnapping girls.
Gesehen von 1 User
1x10 – Midnight in the Garden of Ronnie Beeman
To Tasha's horror, popular grotesque talk show host Ronnie Beeman, a Val fan, hires VIP as 'classy' studio goons. And as his personal body-guard after a failed bomb attack on air by extremists prepared to use a suicide pill. A hawk a talon tattoo actually identifies them as a secret super-commando team of five. Then they strike again. When Val stands is as guest presenter, her soft style taps into ruthless studio politics.
Gesehen von 1 User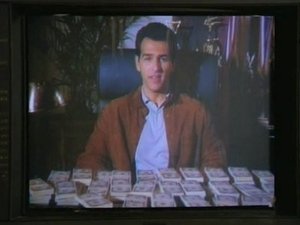 1x11 – Good Val Hunting
Multibillionaire Eric Collier, who made his fortune in arms, hires VIP to protect him while practicing extreme sports. Once the team is under contract, they see him on TV offering $10,000,000 to whoever kills him within 48 hours. After they ward off a few attempts on his life and join him in a fortress complex, a rough surprise follows.
Gesehen von 1 User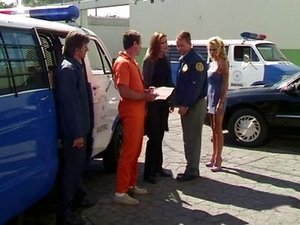 1x12 – Escape from Val-catraz
Convicted bank-robber Harry Murdock's ex Cindy hires VIP for their daughter Cynthia's wedding with Ted. Just then Harry makes a deal to reveal where he stashed away $17,000,000 he stole from corrupt cops, who stole it from Nikki's family, the Franco mobsters. He demanded VIP protection, in vain. His transport is attacked by his ex partner Rene Batiste, but Val and Nikki pick him up and go in hiding, while the FBI searches for all three. But so are Rene Batiste and his present partner Garvick. Harry is determined to attend the wedding, and an extra.
Gesehen von 1 User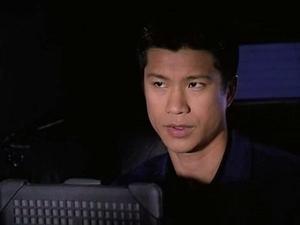 1x13 – The Last Temptation of Val
Martial arts star Johnny Loh left Hing Kong, innocently blamed for the death of his friend, a stuntman. While they counter en bank robbery, Val discovers he lives in LA as businessman Jay Chesler's bodyguard Fong. He has to kidnap Nikki to get at his computer. He has a noble reason: it contains the evidence he gathered against the Tong (Chinese mob). But their boss Han is on his trace, determined to eliminate the threat.
Gesehen von 1 User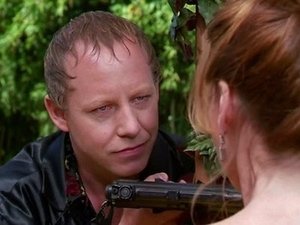 1x14 – Val Under Siege with a Vengeance
Helping the limber Brewster twin models is a piece of cake. Guarding cryptography tycoon Simon Wirth's wife Jessica's annual fund raiser fashion show seems even easier. But GDR-nostalgic Heinrich Anser's gang drugs and impersonates the band, Moscow Knights. They hostages to use the US treasury codes for destabilizing the capitalist financial system. Serially adulterous Simon needs firm prodding to help escapees Val and Kay.
Gesehen von 1 User
1x15 – Val on the Run
Val's production friend Steve Wizner, a rising Holywood studio executive, can call her just in time for VIP to rescue him from thugs send by bootleg video bosses he will expose in court. He chooses VIP over FBI protection, but is shot in the pool with her by Helga, his Swedisdh topless 'housekeeper'. VIP suspects FBI witness protection Agent Lambert is the dirty link, but he's not the only one playing a deceptive game.
Gesehen von 1 User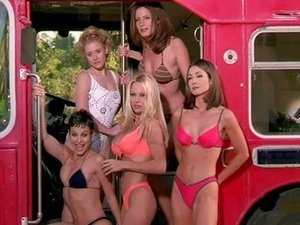 1x16 – Thunder Val
NSA agent Darman enlists top IQ sociopath prisoner Dr. Stokes, to trick the buyer on St.Kitts Thunder. That contact poison was just busted by the FBI from Russian rogue scientist Gregor, who died in the FBI bust. She accepts to play along if protected by VIP. So as cover they accept to do a sexy magazine's bikini calendar photo-shoot on a Caribean cruise with professional photographer Boka Helmstadt. A nightly attack indicates there must be a mole.
Gesehen von 1 User
1x17 – The Quiet Brawler
Val enjoys a champagne dinner with Baywatch beefcake David Chokachi, uneventful except for a ninja attack. Now his Mike Brawler action movie-franchise slumps, studly star David Hart starts a new health products line and buys the gym where he trained as a kid, in a crime-ridden neighborhood. Fan Val sings up all VIP as members. Local gangster boss Colecord enlist Hart's vindictive, ever-beaten movie villain Rex Revo, in reality twice his muscle-mass, because Hart tries to stop local 'clients' buy the steroids his goons push. Rex goes out of control to force Hart to a ...
Gesehen von 1 User
1x18 – K-Val
Someone anonymous calls and e-mails that radio talk show doc Lonnie Hippelman will also pay for her show 'hurting too many people'. Her gentle husband Roy, a space engineer, hires VIP to protect them and adolescent son Jeremy. The culprit proves an scarily able bomber and an elusive master-planner. There's no shortage of suspects.
Gesehen von 1 User
1x19 – Mudslide Val
Plastic surgeon Richard D. Gold calls VIP to protect him and 'someone else'. before they arrive, he's staged cardiac arrest victim by lethal injection. The team sassily enjoys checking on a lead to Louis Westin's luxury spa Red Oak. There they find Hollywood producer Frank Zeit in hiding incognito. yet a more likely target is Louis, in his former identity as secret agent Bob Porter. He suspects drug lord Adam Banta, who actually checks in with his murderous accomplice as the Johnsons.
Gesehen von 1 User
1x20 – Raging Val
The team tries to help Rigo Fernandez, Quick's last boxing opponent, who is in trouble with his manager, Carlos Montecinas, who is working for the Russian mob. VIP first must work out the macho boys's past, then deal with present secrets and treason. As a cover, Val also tries her hand at training, as the boxing show must go on.
Gesehen von 1 User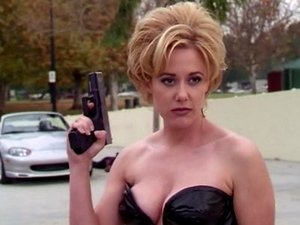 1x21 – Three Days to a Kill
Kay is excited when her college lover, hunky architect Stu Solomon, calls for a dinner. She insists to offer him free protection learning he was threatened by tycoon Clay. VIP however soon fins Stu is far from innocent, in fact he can resist neither a scam nor a flirt.
Gesehen von 1 User
1x22 – Val the Hard Way
Las Vegas crime lord the Prophet recruited the 'DD girls', assorted LA vamp-criminals, for a secret job in Vegas. LAPD detective Grispy has arrested them and hires VIP to impersonate them, being psychical lookalikes but with different specialties. The must keep it up long enough to find the Prophet's mysterious boss. The perks are tempting enough to postpone Val's security anniversary, but the job proves equally dangerous. Worse when the real DD girls escape.
Gesehen von 1 User
Quelle:
themoviedb.com