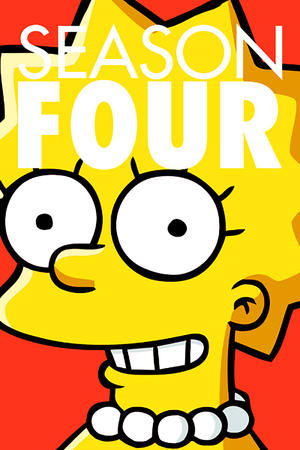 Trailer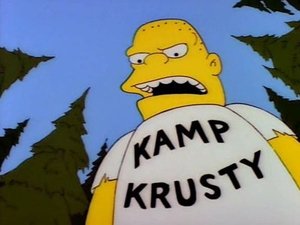 4x1 – Krise im Kamp Krusty
Bart and Lisa attend "Kamp Krusty" but it is nothing like they thought it would be; Homer's hair grows back and he loses weight while the kids are away.
Gesehen von 70 Usern
4x2 – Bühne frei für Marge
Marge stars in a musical adaptation of A Streetcar Named Desire, but is angry with Homer's lack of interest; Maggie squares off with her strict new daycare owner.
Gesehen von 70 Usern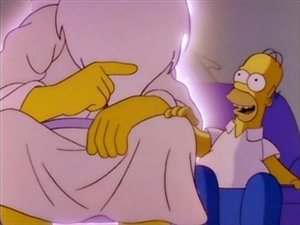 4x3 – Ein gotteslästerliches Leben
After skipping church one week, Homer decides that he is never going back. However, when a calamity occurs, it takes the combined efforts of a number of people from different faiths to save him.
Gesehen von 70 Usern
4x4 – Lisa, die Schönheitskönigin
Lisa enters the Little Miss Springfield pageant.
Gesehen von 70 Usern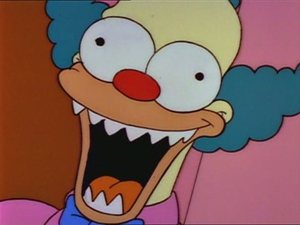 4x5 – Bösartige Spiele
An evil Krusty the Clown doll tries to kill Homer; Marge is captured by a giant ape who falls in love with her; Bart inadvertently raises the dead.
Gesehen von 70 Usern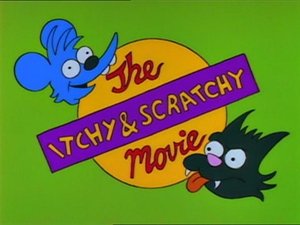 4x6 – Bart wird bestraft
With Bart continually getting in trouble, Homer bans him from seeing the new Itchy & Scratchy movie.
Gesehen von 70 Usern
4x7 – Marge muss jobben
When Marge takes a job at the power plant, Mr. Burns falls in love with her.
Gesehen von 69 Usern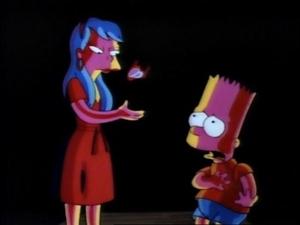 4x8 – Laura, die neue Nachbarin
Bart develops a crush on his new neighbor, only to discover that she's dating Jimbo Jones; Homer sues an all-you-can-eat restaurant after he's kicked out.
Gesehen von 70 Usern
4x9 – Einmal als Schneekönig
Homer opens a snow plow business only to have his best friend Barney open a rival outfit, with commercials by Linda Ronstadt. Homer sends Barney into an avalanche, then feels guilty and saves his life.
Gesehen von 70 Usern
4x10 – Am Anfang war das Wort
While trying to coax Maggie into saying her first word, Homer and Marge talk about how Lisa spoke hers.
Gesehen von 70 Usern
4x11 – Oh Schmerz, das Herz!
Years of poor eating habits catch up with Homer when he suffers a massive heart attack, but the family can't afford the triple bypass operation he needs.
Gesehen von 70 Usern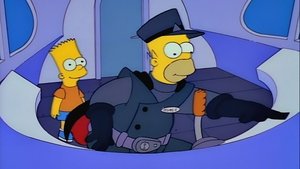 4x12 – Homer kommt in Fahrt
After receiving a considerable donation of money, Springfield builds a monorail system with Homer as the conductor, unaware they've just boarded a one-way train to Hell.
Gesehen von 69 Usern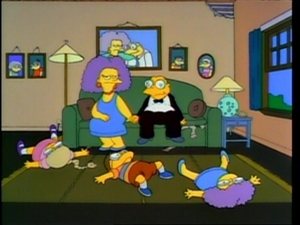 4x13 – Selma will ein Baby
Selma starts to feel broody, but after taking Bart and Lisa to Duff Gardens, she changes her mind.
Gesehen von 69 Usern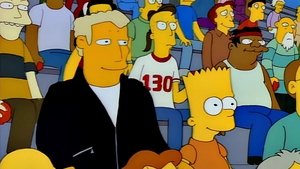 4x14 – Großer Bruder – kleiner Bruder
When Bart gets tired of Homer's horrible parenting skills, he enrolled in the "Bigger Brother" program where he's assigned a fantastic role model.
Gesehen von 70 Usern
4x15 – Ralph liebt Lisa
Feeling sorry for Ralph, Lisa sends him a Valentine card. Having developed a crush on her, Ralph invites Lisa to go see the Krusty the Clown show. She accepts but after Krusty asks them if they are boyfriend and girlfriend, Lisa lets Ralph know that she just wants them to be friends.
Gesehen von 70 Usern
4x16 – Keine Experimente
After Homer is arrested for DUI, and loses his driver's license, he is put to the ultimate test when Marge pressures him to give up beer for a month.
Gesehen von 69 Usern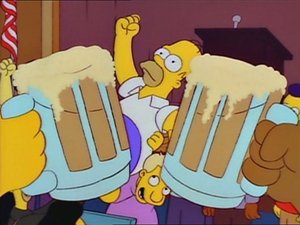 4x17 – Prinzessin von Zahnstein
Homer becomes union leader and leads a company strike when Mr. Burns takes away the company dental plan.
Gesehen von 69 Usern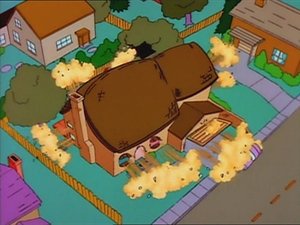 4x18 – Nur ein Aprilscherz…
Bart's April fools prank results in a huge explosion that seriously injures the Simpsons patriarch.
Gesehen von 69 Usern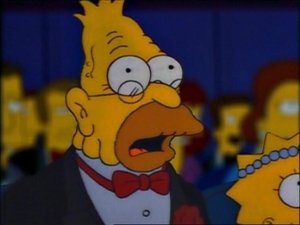 4x19 – Wir vom Trickfilm
Bart and Lisa decide to write their own episodes of the "Itchy and Scratchy" show after they begin to grow bored with the current scripts.
Gesehen von 69 Usern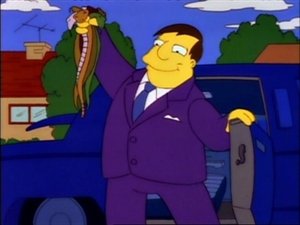 4x20 – Das Schlangennest
Marge attempts to home school Bart after he is expelled from Springfield Elementary. Meanwhile, Lisa protests a barbaric local holiday centered around clubbing snakes to death.
Gesehen von 69 Usern
4x21 – Marge wird verhaftet
A misunderstanding leads to Marge being imprisoned for shoplifting, with her absence soon descending the family, and eventually, the town into chaos.
Gesehen von 69 Usern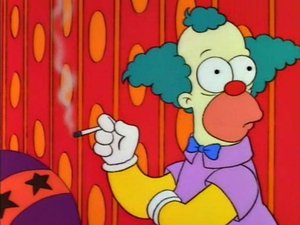 4x22 – Krusty, der TV-Star
A massive advertising blitz announces the arrival of something named "Gabbo." Eventually, Gabbo is revealed to be a Howdy Doody-esque dummy, whose sensational success causes Krusty the Clown's show to be canceled.
Gesehen von 69 Usern
Quelle:
themoviedb.com