Trailer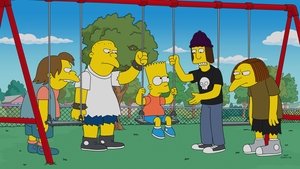 30x1 – Bart's Not Dead
Bart takes a dare, and ends up in the hospital. To cover for himself and Homer, he says he went to Heaven and met Jesus. Christian producers offer the Simpsons a movie deal, which Homer takes. But Bart can't deal with the guilt and comes clean to Marge after the movie is finished.
Gesehen von 3 Usern
30x2 – Heartbreak Hotel
Marge and Homer's marriage is tested when they travel to a tropical island to compete for a million dollars on Marge's favorite reality competition show.
Gesehen von 2 Usern
30x3 – My Way or the Highway to Heaven
God and St. Peter contemplate what merits a soul getting into heaven, while citizens of Springfield remember their divine encounters.
Gesehen von 1 User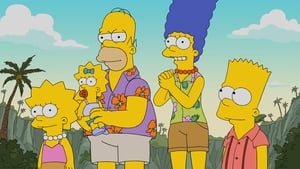 30x4 – Treehouse of Horror XXIX
Homer wins an oyster-eating contest against the mythical Cthulhu, Springfield is overrun by plant body-snatchers, Lisa finally snaps and Mr. Burns opens a retirement home with some Jurassic upgrades.
Gesehen von 2 Usern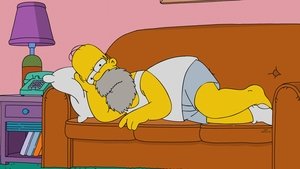 30x5 – Baby You Can't Drive My Car
A self-driving car company comes to Springfield, poaching all of the power plant employees with their fun work environment.
Gesehen von 1 User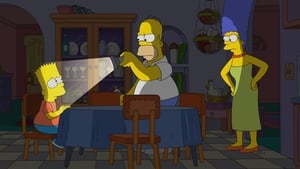 30x6 – From Russia Without Love
On a mission to play hardcore pranks, Bart, Nelson and Milhouse get Moe a mail-order bride on the Dark Web.
Gesehen von 1 User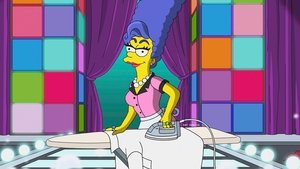 30x7 – Werking Mom
Marge wants a job, and stumbles into becoming a plastic food storage container-selling drag queen. Meanwhile, Lisa tries to make the world better in the style of "Amelie"
Gesehen von 1 User
30x8 – Krusty the Clown
Homer finds his calling as a TV recapper, but his harsh grading causes a brawl with Krusty. After almost killing Homer, Krusty hides out at a real circus, and finds happiness there.
Gesehen von 1 User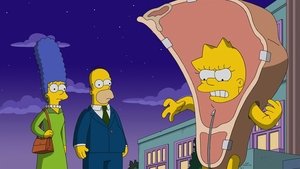 30x9 – Daddicus Finch
Lisa and Homer's bond gets stronger when they start spending real quality time together, and Bart feels neglected. So Marge tries to help Homer balance his attention between the kids.
Gesehen von 1 User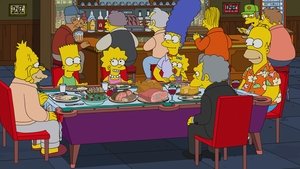 30x10 – 'Tis the 30th Season
After a failed Black Friday shopping spree, Marge is determined to fix Christmas; Homer and the kids surprise Marge with a vacation to a Florida resort.
Gesehen von 1 User
30x11 – Mad About the Toy
When Marge and Homer leave Grampa to baby-sit the kids, some little green army men trigger a PTSD episode, sending the family on a journey to Grampa's past and the time period when he was a post-war toy model.
Gesehen von 1 User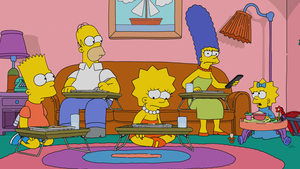 30x12 – The Girl on the Bus
When Lisa spots a new best friend from the window of the bus, she gets a taste of what life could be like with a different, more cultured family.
Gesehen von 1 User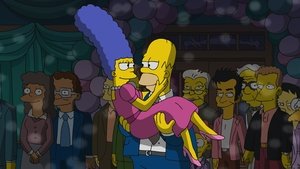 30x13 – I'm Dancing as Fat as I Can
Homer angers Marge by binging their favorite show without her, and has to pick up a new skill in order to make amends. Meanwhile, Bart prepares to compete in "Krusty's Holiday Trample".
Gesehen von 1 User
30x14 – The Clown Stays in the Picture
Krusty reveals the untold story of his past in his movie "The Sands of Space". While working as personal assistants on the movie, Bart and Lisa learn about the early years of their parents' relationship.
Gesehen von 1 User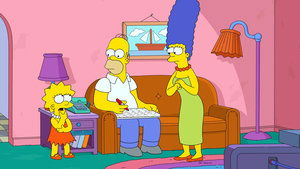 30x15 – 101 Mitigations
Comic Book Guy sues Homer for joyriding in his car. Meanwhile, Guillermo del Toro saves Mr. Burns from his troubles with the law.
Gesehen von 1 User
30x16 – I Want You (She's So Heavy)
When a romantic night ends in injury, Marge recovers by taking up kite boarding while Homer bonds with his hallucinated hernia; Lisa attempts to fix her parents' strained relationship by seeking advice from an unlikely source.
Gesehen von 1 User
30x17 – E My Sports
As Bart begins to excel in video game competitions, Homer discovers a passion for coaching him; Lisa attempts to bring Homer back to reality, but the plan causes chaos.
Gesehen von 1 User
30x18 – Folge 18
Bart joins a group of woke sixth-grade girls when his friends turn on him for laughing at an all-female reboot of Itchy and Scratchy.
Gesehen von 1 User
30x19 – Folge 19
Homer works extra shifts at the plant so Lisa can play in the Capitol City Philharmonic.
Gesehen von 1 User
30x20 – Folge 20
Maggie gets depressed when Marge forbids her from playing with her new baby crush due to his annoying mother; Mr. Burns tasks Homer with swindling Cletus out of his helium fortune.
Gesehen von 1 User
30x22 – Episode #30.22
Know what this is about? Be the first one to add a plot.
Gesehen von 1 User
Quelle:
themoviedb.com