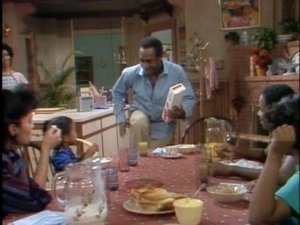 1x1 – Pilot
Cliff explains to Theo how "regular" people get by with a low "regular" salary, with the use of Monopoly money.
Gesehen von 25 Usern
1x2 – Goodbye, Mr. Fish
Cliff forces the entire family to hold a funeral for Rudy's dead goldfish Lamont.
Gesehen von 25 Usern
1x3 – Bad Dreams
Vanessa sneaks into a scary movie despite her parents' forbidding it because she can't handle scary things. Cliff and Claire then have to deal with Vanessa sleeping between them in bed when she has nightmares from the movie.
Gesehen von 25 Usern
1x4 – Is That My Boy?
Theo makes the football team, so Cliff gives him some pointers.
Gesehen von 25 Usern
1x5 – A Shirt Story
Theo gets a shirt that cost too much, so Denise makes him an "Exact" replica.
Gesehen von 25 Usern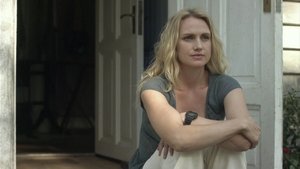 1x6 – Breaking with Tradition
Cliff's father, Russell Huxtable, comes over for a visit, and then tries to persuade Denise to go to Hillman college, which has become a family tradition.
Gesehen von 25 Usern
1x7 – One More Time
While babysitting one of Cliff's patients babies, Clair decides she wants to have another baby.
Gesehen von 25 Usern
1x8 – Play It Again, Vanessa
Vanessa is in the school's orchestra and plays the clarinet. Unfortunately, she is not good at it. While practicing at home, the family members put up with the noise she makes. At school, during a show, she has a solo performance.
Gesehen von 25 Usern
1x9 – How Ugly Is He?
Cliff and Claire are annoyed by Denise's new boyfriend and his arrogant attitude.
Gesehen von 25 Usern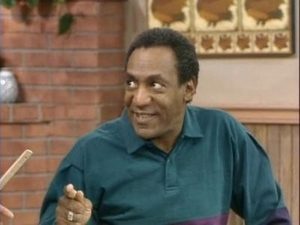 1x10 – Bonjour, Sondra
Sondra is introduced, who comes back from college and is planning a trip to Paris for the summer.
Gesehen von 25 Usern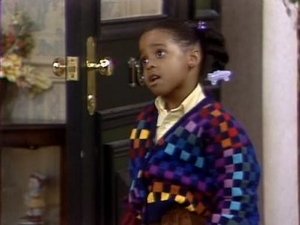 1x11 – You're Not a Mother Night
Clair is having too many mothering days with everyone wanting her attention and to do things for them. Cliff decides it is time for a mother's day off. He takes her for a romantic day and night at a hotel.
Gesehen von 25 Usern
1x12 – Rudy's Sick
Rudy is sick and has to stay home from school. Since Clair is being considered for a partner at her law firm, she has to go to work for the interview. Cliff takes care of Rudy while keeping office hours and seeing his patients.
Gesehen von 25 Usern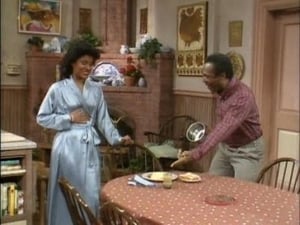 1x13 – Father's Day
It's Father's Day and Cliff dreads the presents the children will give him as they are always ill-fitting or unusable. This year he asks them to think about him and get meaningful gifts; they come up with some unique thoughts and gifts.
Gesehen von 25 Usern
1x14 – Independence Day
Theo gets an earring without permission.
Gesehen von 25 Usern
1x15 – Physician of the Year
Cliff's going to be Physician Of The Year. Theo is tapped to make his Dad's speech and accept the award for him, when Cliff's called to deliver a baby.
Gesehen von 25 Usern
1x16 – Jitterbug Break
After her unusual plan for getting concert tickets falls through, Denise and friends have an impromptu dance party in the living room.
Gesehen von 25 Usern
1x17 – Theo and the Joint
When Clair finds a marijuana joint in Theo's history book she and Cliff confront. Theo explains that it is not his and both Cliff and Clair believe him, but Theo feels that they are going to look down on him from this point on. So they next day he goes to school to confront the person it actually belonged to.
Gesehen von 25 Usern
1x18 – Vanessa's New Class
Vanessa's in an advanced science class but hardly works on her science fair project, and when her friend wins first place, Vanessa accuses her of getting help from her parents.
Gesehen von 25 Usern
1x19 – Clair's Case
Clair has a big case suing a mechanic that did lousy work on Sondra's car; Rudy does not want to go to a museum; Cliff teaches the kids how to do house chores, and he also cooks a soup with a cow's tongue.
Gesehen von 25 Usern
1x20 – Back to the Track, Jack
Cliff's former track coach wants him to compete in a track event for seniors but the laid back Cliff is not interested. That is until an old rival dares him to.
Gesehen von 25 Usern
1x21 – The Younger Woman
Cliff and Clair discuss their mortality, and wonder what the other would do if one of them was to pass away. They also get a visit from a friend of Cliff's that is dating a woman at least 25 years his junior.
Gesehen von 25 Usern
1x22 – Slumber Party
When Rudy announces she's bored, Cliff arranges for her friends to come over for a slumber party and then gets stuck entertaining the kids.
Gesehen von 25 Usern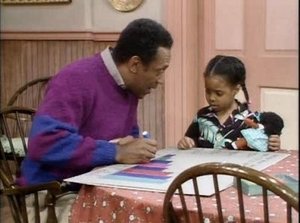 1x23 – Mr. Quiet
Singer Tony Orlando guest stars as a man who runs an activity center where Dr. Huxtable is giving a class to expectant mothers. Tony's character has a girlfriend who also works with him. Thanks to Theo, he encounters and helps a boy who refuses to speak out of his fear of strangers. He has also just been teased and beaten up by other kids. Tony finds out who his mother is and while waiting for her, tries to get "Mr. Quiet" to talk.
Gesehen von 25 Usern
1x24 – Cliff's Birthday
It's Cliff's birthday and the family tries to keep his present (going to a Lena Horne show) a secret. Cliff will do whatever he can to find out what his present is. And to make sure that he doesn't find out, they don't tell the weak link (Theo) what it is.
Gesehen von 25 Usern
Quelle:
themoviedb.com