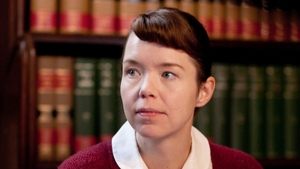 1x1 – Cracking a Killer's Code: Part 1
During World War Two Susan, a pattern recognition expert, mathematician Millie,information gatherer Jean and Lucy,a young girl with an incredible memory,work as code-breakers at Bletchley Park. In 1952,Susan,now married,hears on the radio about a serial killer and contacts Deputy Chief Commissioner Wainwright,a wartime friend of her husband Timothy,with her theory that there will be another victim in a particular place. However the police find nothing.Susan then decides to call on her former colleagues and,under the guise of a literary club,asks them to join her in ...
Gesehen von 3 Usern
1x2 – Cracking a Killer's Code: Part 2
The women surmise that the killer is a rail employee,familiar with train times,who offered his victims perfume or nylons to go with him and they narrow the list of suspects down to three men. However,when Susan takes her theory to DCI Compton,in the absence of Wainwright,he is dismissive. Following a failed attempt to trap the killer,in which Lucy,acting as bait, is sexually assaulted by a passenger who is not the murderer,they discover that their original theory is wrong. Susan suspects that the real killer set up the others as red herrings and believes he learned ...
Gesehen von 3 Usern
1x3 – Cracking a Killer's Code: Part 3
Susan speaks to a man who claims he is the suspect's psychiatrist and to whom she unwittingly gives her reasons foe seeing him. She is lucky to escape and soon realises she has met the murderer but when the police are called to the house he has vanished. She visits Cavendish for more information,only to find that he too has been killed but when she takes her findings to Wainwright he is again dismissive. Research leads the women to find that the serial killer's first victim was Julie Oakwood,during the war,and,from the leads this gives,Susan makes a final journey to ...
Gesehen von 3 Usern
Quelle:
themoviedb.com