1x1 – Pilot
Emily Thorne rents the Southhampton home she once shared with her father and sets her plan into motion.
Gesehen von 21 Usern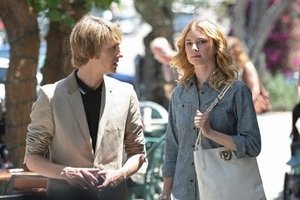 1x2 – Trust
Emily gets to work on her next target, a former family friend who testified against her father. Victoria tries to find more information on Emily.
Gesehen von 18 Usern
1x3 – Betrayal
Emily seeks to destroy the district attorney who convicted her father. Victoria tries to confirm her suspicions about Emily's past.
Gesehen von 18 Usern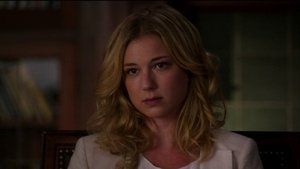 1x4 – Duplicity
Emily targets the psychiatrist responsible for institutionalizing her as a child. Declan and Jack face a tough decision.
Gesehen von 18 Usern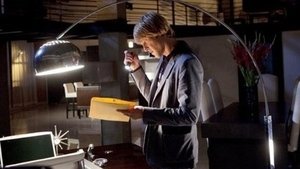 1x5 – Guilt
Victoria's vulnerabilities are exposed when feelings of guilt and a fight with her daughter becomes to much to bear.
Gesehen von 18 Usern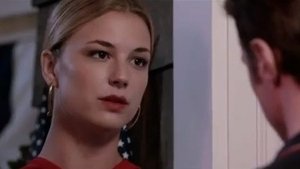 1x6 – Intrigue
Jack hires Daniel but leaves him alone with another novice, Bull, on his first day, the 4th of July, to attend the legendary Grayson party, now in honor of their ultra-sanctimonious charity for terror victims. Denied cash for an outfit by Jack to accept Charlotte's invitation, Declan steals fishermen's lobsters but is found out, Daniel and Jack save the knave's bacon last minute. Tyler drops by to impose on Danny one drink' and spikes it, so his mate seems utterly incompetent and an irresponsible lush. Nolan is terrified but still removes evidence that could expose ...
Gesehen von 18 Usern
1x7 – Charade
Daniel agrees with Jack he better resigns as barman and takes pity on his father, whom Victoria locks out. Tyler forces Emily to face the press at the occasion of the sanctimonious couple's 25th wedding anniversary and grabs his chance to become Conrad's potentially indispensable right hand by helping him move his office from the beach mansion. Frank vows to redeem himself with the couple and discovers 'Emily's' past includes Amanda's identity swap with the real one in a juvenile institution, but the warden tips off 'Emily' and the real one, contacted by Frank, ...
Gesehen von 18 Usern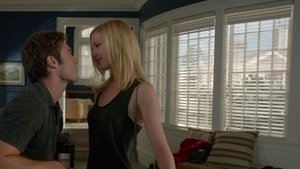 1x8 – Treachery
Daniel's return to the family firm delights Conrad, but Tyler feels passed over and seeks an alliance with Victoria's disgruntled English assistant Ashley. Nolan is appalled to find the girl 'Emily' dumped on him is the real one and Frank's murderer, yet helps her cover up before Lydia, whom Victoria took in to keep an eye on her memory recovery, would catch on. They send the killer to Paris with a new identity, both ignoring she actually stays around. Confronted with his family's bankruptcy and his own bisexuality, Tyler buys Nolan's silence with physical intimacy. ...
Gesehen von 18 Usern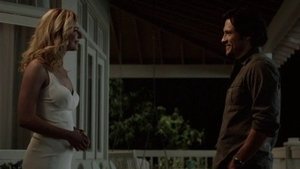 1x9 – Suspicion
Nolan is horrified to find the 'new' Amanda Clark didn't move overseas but is seducing Jack, and 'Emily' fails to keep her promise to deal with her alter-ego, despite calling in her Japanese mentor Hitaki. Daniel looses the dare his father posed, with full commission at stake, to him and Tylerto land the first fat cat at a fancy investors party. Nolan, who already caught his gay lover 'borrowing' his credit-card, pledges $20,000,000 to make Tyler 'win' and sink the remainder of his friendship with Daniel. Declan pretends to accepts Victoria's bribe offer to dump ...
Gesehen von 18 Usern
1x10 – Loyalty
After Nolan withdraws his investment trough Tyler and refuses to be coaxed, Emily steals Nolan's sex video and sends it to Conrad, so the intruder would be fired as blackmailer, but Tyler saves his job with his own blackmail memory stick copies. Charlotte moves out just to be rid of Victoria, without hooking up with Declan yet. Nolan prevents Lydia's exposing speech being made public by Tyler, but is disgusted by verbally abusive Emily's ingratitude and cancels their pact as it no longer corresponds to the late father Clark's wishes. Victoria hires lawyer Ryan Huntley...
Gesehen von 18 Usern
1x11 – Duress
Daniel delights Conrad by rejoining the family firm, even considers dropping out of Harvard at least a semester for it, but actually intends, naively, to help Victoria's divorce case as her spy. Tyler goes to extreme lengths to rescue his blackmail bid, even violently overpowering Nolan to steal the incriminating recordings back, and when that fails takes Daniel's birthday beach part guests at gun point, but his brother, San Francisco surgeon Alexander Barrol, arrives just in time.
Gesehen von 18 Usern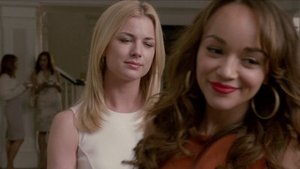 1x12 – Infamy
Daniel demands full access to his grand-paternal trust fund as condition to join the hedge-fund for good, but Conrad dares only release the cash, not the shares which cold topple the balance in Victoria's favor is she gets some from the divorce. Emily and reconciled ally Nolan remember her lawyer Ryan Huntley helped ruin her and father David Clark's lives. When Victoria hosts at a literary event Mason Treadwell, the renowned biographer the Graysons paid to publish the story that ruined David's reputation, Nolan and Emily find out he still type-writes without copies, ...
Gesehen von 17 Usern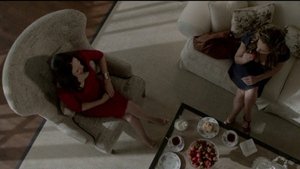 1x13 – Commitment
Daniel plans a romantic proposal that may carry dire, long-term ramifications, and Charlotte is devastated when she's forced to move back home with her mother. Meanwhile, Jack's life is put in jeopardy when he's betrayed by someone he adores, and Nolan forces Emily to think twice about her actions.
Gesehen von 17 Usern
1x14 – Perception
Daniel's parents not only agree to his engagement, Victoria invited and briefed Conrad's father, the firm founder and board president, who demands a 'decent' divorce and intends to replace his son as CEO with Daniel. Conrad makes up with Charlotte, whom he sent back to Victoria under a practical pretext. After Jack is badly roughed up, he finds one of the incriminating tapes stolen from Mason's arson-wrecked home and assumes 'Amanda' did it before she left. Amanda gets her to leave with a new identity and trusts Nolan to destroy it, but he lets Jack hear the truth ...
Gesehen von 17 Usern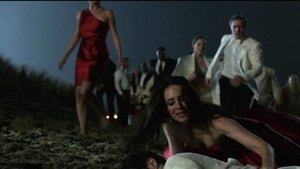 1x15 – Chaos
Daniel gets cold feet at his own engagement party after 'Emily' resists his plan to leave together for Europe forever. Conrad and Victoria make a divorce deal: she gets the mansion, he can buy her shares. Jack planned to leave for a Haiti school charity, but when 'Amanda' returns he's dragged back. Tyler unexpectedly returns and holds Daniel at gun-point. Grandpa Grayson blackmails Charlotte in line after Declan failed the prep school entrance exam. Satoshi Takeda is surprised by Daniel's non-businesslike candor and warns 'Emily'. During a nightly swim, party guests ...
Gesehen von 17 Usern
1x16 – Scandal
Daniel having been found blood-stained, holding the gun which killed Tyler, nothing can stop the police concluding he's the only prime suspect, and the judge denies bail. Nolan bitterly but unsuccessfully questions Emily's determination to continue her revenge even now it turns her true love's life into a complete hell among chaotic collateral damage. She alone knows mentor Satoshi Takeda's crucial part. The Graysons must work together again, terrified the police may discover their parts in Frank's murder and the whole David Clark mess.
Gesehen von 17 Usern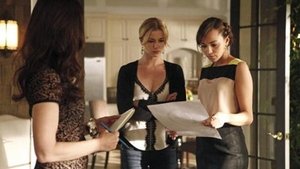 1x17 – Doubt
With the murder suspect in jail, the defense team are searching for ways to implicate someone else. Charlotte's credibility as a witness is called into question. Meanwhile, Victoria reconnects with an old flame.
Gesehen von 17 Usern
1x18 – Justice
Daniel returns home under house arrest and begin to suspect that Emily is getting too close to Jack. Jack returns only because Declan is about to testify against Daniel in the trial. Meanwhile, Emily is trying to move away from Jack the suspicion and testify in order to release Daniel.
Gesehen von 17 Usern
1x19 – Absolution
With Daniel free of charges, Emily is set up to find the man that killed her father, which brings her to the house of one of the former secretaries of Grayson Global - only to discover a secret she wasn't expecting.
Gesehen von 16 Usern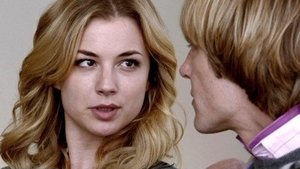 1x20 – Legacy
A look at Emily before she set out to go after the people she holds responsible for her father's death.
Gesehen von 16 Usern
1x21 – Grief
Emily's search for the white haired man is interrupted by the wedding plans, and now Nolan is going after him. Meanwhile, Sammy seems to be on the final stage of his life.
Gesehen von 16 Usern
1x22 – Reckoning
Although Daniel threatens to drop Victoria if she ruins his father's firm and Conrad warns her their children's future would be wrecked too, she flies to Washington with federal agent John McGowen. Conrad however blackmails the albino to put a bomb in their airplane. Amanda fears all her scheming was for nothing, but Nolan copied all the evidence and shows a further recording, proving Conrad hired the albino to kill her father, so instructed by the mysterious American Initiative. Daniel dumps Emily after hearing about her night with Jack, whom she resolved to chose ...
Gesehen von 16 Usern
Quelle:
themoviedb.com