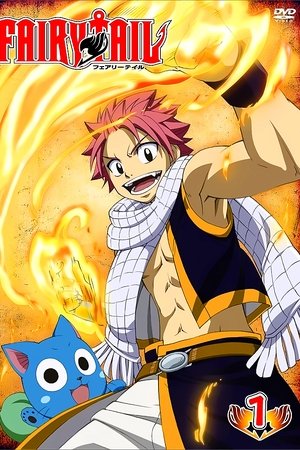 1x1 – Fairy Tail
Natsu and his cat Happy have traveled to the town of Hargeon in search of a dragon known as Igneel. There they run into Lucy, a young wizard who is determined to join the Fairy Tail Guild. Lucy meets a wizard claiming to be the famous Salamander of Fairy Tail, who uses his charms to trick young women into coming aboard his ship so he can kidnap them. Lucy nearly falls into the same trap, but Natsu rescues her and reveals himself to be the real Salamander, inviting her to join Fairy Tail.
Gesehen von 10 Usern
1x2 – The Fire Dragon, the Monkey, and the Ox
As the Magic Council discuss what is to be done about Fairy Tail's destructive behavior Natsu and Happy return to Fairy Tail bringing Lucy along to join the guild. There she is introduced to the other members. While looking for a job they discover that one of the members of the guild, Macao, has gone missing after going on a job to Mt. Hakone. Natsu, Happy and Lucy go off in search of him.
Gesehen von 10 Usern
1x3 – Infiltrate! The Everlue Mansion!
Lucy has moved into a house in Magnolia where her guild Fairy Tail is located. As Lucy is talking about how great her house is Natsu and Happy barge in, to Lucy's dismay. As she fails to get them to leave she shows them her Celestial spirits before then opening the gate of Canis Minor to form a new contract with the spirit, which she names Plue. After inviting her to join him to make up a team, Natsu presents her with a job to steal a book from the mansion of Duke Everlue. They travel to Shirotsume Town to meet the client who is desperate to get the book. They find ...
Gesehen von 10 Usern
1x4 – Dear Kaby
Natsu has taken care of the guards employed by Duke Everlue and partially destroyed the mansion in the process. Meanwhile, Lucy and Happy struggle with Duke Everlue himself in an attempt to take the book Fairy Tail has been employed to steal. The history behind the writing of the book was secretly hidden within, which Lucy explains during the fight. However, she is convinced the book contains a greater secret... They defeat Duke Everlue, who's magical tunneling results in the mansion collapsing, and deliver the book to the client. On the way back to Fairy Tail Natsu, ...
Gesehen von 9 Usern
1x5 – The Armored Mage
Natsu, Happy and Lucy have returned to Fairy Tail after finishing their last job. They become bored just hanging around and decide to go on another job especially since Lucy cannot afford to pay the next months rent since they did not get money for the previous job. Whist deciding, Fairy Tail's strongest female wizard, Erza, returns and requests Natsu and Grey to accompany her on a dangerous job against the dark guild Eisenwald. They set off with Lucy and Happy tagging along...
Gesehen von 9 Usern
1x6 – Fairies in the Wind
Makarov, master of Fairy Tail, is away at a meeting of local guild masters. Meanwhile, members of the dark guild, Eisenwald, have taken over a train as part of a plot. Its up to Erza, Natsu, Grey, Lucy and Happy to find out what they are planning and stop them. They catch up to the guild at Oshibana station where they reveal their plan to use the speakers in the station to broadcast the Lullaby, a Death Magic flute that kills all who hear it, to the surrounding city. Eisenwald's guild master runs off and Natsu and Grey are sent to stop him. Erza and Lucy defeat the ...
Gesehen von 9 Usern
1x7 – Honoo to kaze
Gesehen von 9 Usern
1x8 – The Strongest Team
Natsu finally knocks the wind out of Erigor's sails in a scorcher of a battle - but Fairy Tail's strongest team still has a war to fight when the death flute's dark magic plays an evil scale of epic proportions.
Gesehen von 9 Usern
1x9 – Natsu Eats a Village
While traveling home with grumbling bellies, the team stumbles upon a deserted village with lots of yummy grub lying around, but Erza's gut tells her something's up. While she investigates, the boys chow on a forest full of odd fungus.
Gesehen von 9 Usern
1x10 – Natsu vs. Erza
Now that they've made it back to Fairy Tail headquarters, it's time for Erza to answer Natsu's challenge! Before things really get heated, the Guild Council stops by to arrest Erza, but Natsu's not about to let her get away that easily!
Gesehen von 9 Usern
1x11 – The Cursed Island!
Natsu, Happy and Lucy tread some seriously troubled waters when they break guild rules to take an S-class job request and end up shipwrecked on the cursed Galuna Island!
Gesehen von 9 Usern
1x12 – Moon Drip
When the team stumbles upon the infamous demon Deliora frozen in magic ice, cold memories - and a familiar face - are resurrected from Gray's dark past.
Gesehen von 9 Usern
1x13 – Natsu vs. Hadou no yuuka
What's on the menu for the strongest team? Natsu and the gang give service with a smile waiting tables for an old friend. Then, they meet up with former foes and new friends in an alliance to stop a band of evil sorcerers from releasing a dangerous power!
Gesehen von 9 Usern
1x14 – Do What You Must
Lucy easily defeats Sherry when Erza arrives on Galuna Island and knocks out Angelica. Uninterested in the situation the islanders are in, Erza captures the heroes and intends to return them to the guild for punishment for taking the S-Class job against Makarov's permission. However, Gray stands up to Erza for the first time, explaining to her that he will defeat Lyon.
Gesehen von 9 Usern
1x15 – Eternal Magic
Ul sacrificed her own body to end Deliora's reign with the Iced Shell technique. Gray cuts a path to the ruins to put the freeze on Lyon - who plans to release the indomitable monster just to see if he can best their mentor!
Gesehen von 9 Usern
1x16 – Decisive Battle on Galuna Island
Face to face with his childhood rival, Gray is willing to do anything - even use Iced Shell - to stop Lyon from melting the ice to free Deliora!
Gesehen von 9 Usern
1x17 – BURST
Natsu puts the heat on the masked wizard and crumbles his plans to use Deliora for himself. The mystery of the village's curse is yet to be solved - Erza prepares to take down the purple moon looming over the island!
Gesehen von 9 Usern
1x18 – Reach it! To That Sky!
Natsu and Erza lift the curse by aiming their attacks at the moon, destroying a magical membrane cast over the island by the Moon Drip, which turns out to be the direct cause of the curse. Furthermore, it is revealed that the curse hadn't turned the islanders into demons.
Gesehen von 9 Usern
1x19 – Changeling!
Natsu absent-mindedly reads a spell that switches the minds and magic of everyone nearby! If they don't figure out how to reverse the spell, they'll be the most pathetic team of Fairy Tail - forever!
Gesehen von 9 Usern
1x20 – Natsu and the Dragon Egg
After coming across an old photo, Lucy and Mirajane reminisce about the earlier days of Fairy Tail.
Gesehen von 9 Usern
1x21 – Phantom Lord
A metal-headed member of the Phantom Lord guild wrecks the Fairy Tail headquarters, but Makarov turns the other cheek. It's another story when someone attacks his own wizard children - he takes the whole guild to war!
Gesehen von 9 Usern
1x22 – Lucy Heartfilia
The powers of the Dragon Slayers clash when Natsu goes head to head with Gajeel! The destruction is interrupted when a guild master takes a critical blow and word that Lucy has been kidnapped sends Natsu over the edge!
Gesehen von 9 Usern
1x23 – 15 Minutes
While a healing mage watches over Makarov, Fairy Tail regroups to plan their next move. But when Jose returns with a giant cannon capable of blasting the entire guild to bits, their time to act ticks away!
Gesehen von 9 Usern
1x24 – So No One Sees the Tears
An ancient guild reveals a dark secret and leaves its only surviving members without a home. Luckily, their new friends are in an awesome guild that loves getting new members!
Gesehen von 9 Usern
1x25 – A Flower Blooms in the Rain
Elfman unleashes the dangerous full body beast mode to pummel Sol. Two of the Element 4 remain, and they must be taken down to stop the Abyss Break spell. Natsu wages war against the wind wizard and the drippy Juvia melts over Gray.
Gesehen von 9 Usern
1x26 – Wings of Flame
Natsu struggles against the strongest of the Element 4 - but a surprise blow from an armor-switching warrior knocks the wind right out of Aria! Meanwhile, Lucy is back in the sinister Jose's grips after a heavy-handed jerk overpowers her protectors.
Gesehen von 9 Usern
1x27 – The Two Dragon Slayers
A seriously scary Natsu tests his mettle against the iron-scaled Gajeel - but he loses steam when there isn't anything around to fuel his firepower! Back on land, the shades are pummeling the guild to the ground!
Gesehen von 9 Usern
1x28 – Fairy Law
Thanks to a celestial smarty, Natsu gets fired up enough to finish off the cocky Gajeel. As Jose is moments from crushing Erza, extreme powers collide when Fairy Tail's fearsome leader makes a blinding return to burn out Phantom Lord.
Gesehen von 9 Usern
1x29 – My Resolve
After a heated chat, Natsu and Gajeel share a dragon-related revelation. The triumphant wizards of Fairy Tail get right to work on a new guild headquarters. When Lucy's friends pay her apartment a visit, she's nowhere to be found!
Gesehen von 9 Usern
1x30 – Next Generation
With Fairy Tail as notoriously wild as ever, the Magic Council expresses its disapproval but is unable to force them to disband. Meanwhile, as Fairy Tail rebuilds, the suggestion that Makarov retires has him considering the possible candidates for his successor: his grandson Laxus, the reclusive Mystogan, and Erza. However, when he hears of the results of Erza and her group's latest mission, he reconsiders retiring.
Gesehen von 9 Usern
1x31 – A Star Removed from the Sky
Loke's smooth with the ladies--but Lucy seems to be his kryptonite. Irked by his odd behavior around her, Lucy looks into his past with another Celestial Wizard and learns his startling secret!
Gesehen von 9 Usern
1x32 – The Spirit King
Loke shares his unsettling story with Lucy. Refusing to let her friend fade away forever, Lucy challenges the authority of the almighty ruler of the skies himself!
Gesehen von 9 Usern
1x33 – The Tower of Heaven
The team takes a moment to kick back at a luxurious resort, but the vacation is cut short when a crew of dangerous rogues catches the wizards with their guards down and swipe Erza and Happy!
Gesehen von 9 Usern
1x34 – Jellal
As Midnight continues to cut away at the coalition, Erza tracks down Jellal - who has an ulterior motive for awakening the overpowering evil of Nirvana!
Gesehen von 9 Usern
1x35 – Voice of Darkness
Erza's flashback continues. Her magical prowess awakened in the revolt against the slaves' oppressors, but she failed to save Jellal. Now she has no choice but to fight her former friend to stop him from releasing horrors upon the world.
Gesehen von 9 Usern
1x36 – Heaven's Game
Natsu is temporarily declawed when he gets stuck in some stubborn headgear, but he uses his dome to defeat a kitty-loving baddy. It's all a game to Jellal, who brings in three twisted wizards from the Assassin's Guild.
Gesehen von 9 Usern
1x37 – Armor of the Heart
With one sick riff, a noisy metalhead transforms Juvia into his own freaky slave and turns her against Lucy! Elsewhere in the castle, Natsu is gobbled up by a bird-brained rocketeer!
Gesehen von 9 Usern
1x38 – Destiny
Erza slices through a samurai showdown with the sharpest of the Assassin's Guild wizards and heads straight for Jellal - can she defeat him before the Council fires the destructive Etherion beam?
Gesehen von 9 Usern
1x39 – Give Our Prayers to the Sacred Light
As Jellal's plan falls into place, Erza is suddenly seconds from losing her body to resurrect Zeref! All hope seems lost unless her fire-breathing friend has enough flame in him to save her.
Gesehen von 9 Usern
1x40 – Titania Falls
Natsu works on wrecking the tower, much to the possessed wizard's aggravation - who gets a taste of the Dragon Slayer's true power. As the aftershock of the Etherion blast threatens to take everyone out, Erza decides to take one for the team.
Gesehen von 9 Usern
1x41 – Home
Friendship prevails, Erza says farewell to old pals, and the strongest team of Fairy Tail return home to a bevy of surprises. Not only is the guild hall bigger and better than before--a couple new members have joined the ranks!
Gesehen von 9 Usern
1x42 – Battle of Fairy Tail
Magnolia's annual Harvest Festival begins! The contest progresses joyfully until the arrival of Laxus Dreyar and the Thunder God Tribe, who start the Battle of Fairy Tail.
Gesehen von 9 Usern
1x43 – Defeat Your Friends to Save Your Friends
Makarov and Natsu are sitting ducks while the rest of the wizards battle each other to exhaustion. Laxus taunts the guild master with blackmail, but there's still a dim light of hope - some of the strongest wizards still remain.
Gesehen von 9 Usern
1x44 – Thunder Palace
After Erza takes on Evergreen, Laxus sends the guild a high-voltage threat! While the wizards search the city for the wired-up bully, Lucy and Happy are ambushed by creepy dolls!
Gesehen von 9 Usern
1x45 – Advent of Satan
Just when it seems she's out of luck, Lucy's most defiant - and amorous - celestial spirit saves her from death by dollies. Elsewhere in the city, the guild's sweetest member makes a wicked transformation in a struggle to stop Freed.
Gesehen von 9 Usern
1x46 – Clash at Kardia Cathedral!
The Raijin Tribe is defeated, but time ticks away for Fairy Tail to stop the Thunder Palace from frying the whole city. While Natsu puts the heat on Laxus, Erza prepares to dismantle the massive threat over Magnolia.
Gesehen von 9 Usern
1x47 – Triple Dragon
After a telepathic pep talk, the Fairy Tail wizards put their quarrels aside to help Erza take the Thunder Palace down. With part of his plan foiled and another Dragon Slayer entering the fray, Laxus charges up for a thunderous attack.
Gesehen von 9 Usern
1x48 – Fantasia
The wrath of Laxus takes a shocking turn and a resilient fire-breather takes one last stand to stop the war. Despite the damage, the Fairy Tail wizards muster up the strength to put on a dazzling show for the Fantasia parade!
Gesehen von 9 Usern
Quelle:
themoviedb.com