1x1 – Folge 1
When he loses his speed, former Major League Baseball pitcher, Kenny Powers (Danny McBride) is forced to move in with his brother in his old home town. Kenny takes a job as a substitute physical education teacher at his old home town.
Gesehen von 2 Usern
1x2 – Folge 2
Kenny Powers continues to struggle with life after baseball. His efforts to raise money through personal appearances falls flat and his job as a teachers assistant sees him struggling with small town community needs.
Gesehen von 2 Usern
1x3 – Folge 3
Kenny's money troubles increase and he resorts to trying to merchandise all his memorabilia from his playing days. As sales don't go as well as expected, Kenny suspects he needs God in his life.
Gesehen von 2 Usern
1x4 – Folge 4
Kenny looks to rekindle an old flame at a barbecue hosted by April and Cutler; Stevie cuts a greatest hits DVD for his favorite ballplayer in hopes of getting Kenny a big-league tryout.
Gesehen von 2 Usern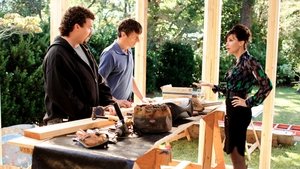 1x5 – Folge 5
Convinced he's lost his stuff, Kenny decides to give up his comeback dreams and move on as a working stiff--but his resolve is tested by arrogant car dealer Ashley Schaeffer and his new pet celebrity, a major-league arch-nemesis named Reg Mackworthy.
Gesehen von 2 Usern
1x6 – Folge 6
In the Season One finale, Kenny says goodbye to his life as a schoolteacher--and bids farewell to Dustin and his family--after he's tendered a big-league job offer in Tampa.
Gesehen von 2 Usern
Quelle:
themoviedb.org