1x1 – Folge 1
The Jetsons hire a robot maid.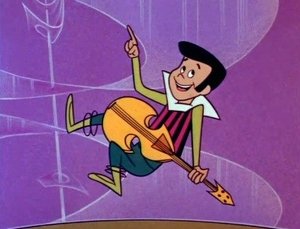 1x2 – Folge 2
Judy enters a song writing contest and wins a date with Jet Screamer, much to George's chagrin. That evening he follows his daughter and the flamboyant rock star to the concert hall where he puts on a mega show, singing Judy's song "Eep Opp Ork Ah Ah".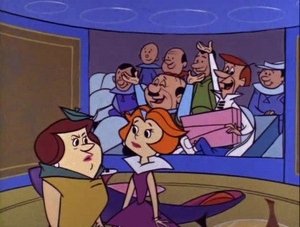 1x3 – Folge 3
Mr. Spacely has tickets to the football game, and he invites George to come along. So, they fool their wives into thinking they were working late, and duck out to the game. It all goes according to plan, until they return home to their infuriated better halves.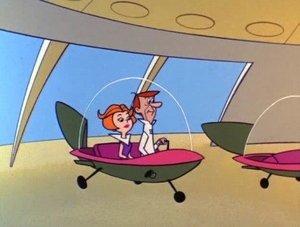 1x4 – Folge 4
A trip to the local car dealership to buy a new car goes south when George and Jane get mixed up in a crime like never before and are mistaken for an escaped convict and his shapely partner.
1x5 – Folge 5
Elroy finds a dog and brings him home, even though his father is against having a dog.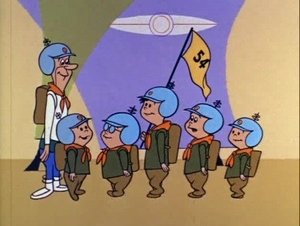 1x6 – Folge 6
George reluctantly agrees to lead Elroy's scout troop on their camping trip on the moon. He wasn't too thrilled about it, but since Mr. Spacely's son Arthur is also a scout member, George jumped at the opportunity to appease his boss. They're not on the moon one hour when George and Arthur find themselves lost.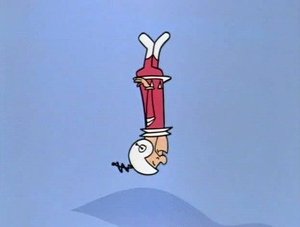 1x7 – Folge 7
George thinks that Elroy has invented a flying pill that actually works.
1x8 – Folge 8
Rosie begins a romance with the janitor's robot assistant.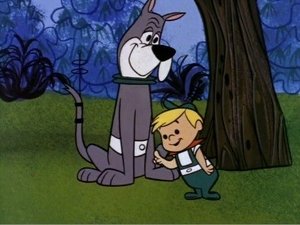 1x9 – Folge 9
A TV show producer discovers Elroy and Astro in the park, and casts them in a brand new, original series: "The Adventures of Spaceboy Zoom and His Dog, Astro".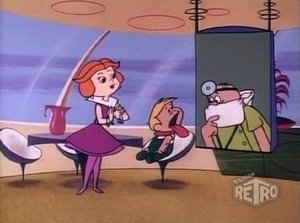 1x10 – Folge 10
George is confident he will get a promotion, but things do not go as planned at all.
1x11 – Folge 11
The Jetsons are visited by George's zany grandfather, Montague.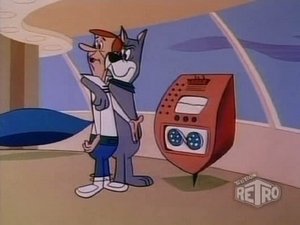 1x12 – Folge 12
Rival company boss Cogswell believes that George has invented a device that allows Astro to fly.
1x13 – Folge 13
Lovebirds George and Jane go on a second honeymoon.
1x14 – Folge 14
TV hero The Great Nimbus comes to visit Elroy.
1x15 – Folge 15
After George thinks that he is dying, he decides to become a test pilot for an indestructible suit.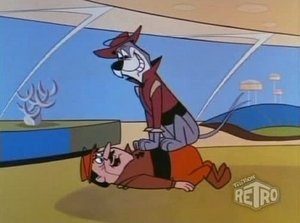 1x16 – Folge 16
A millionaire tries to take Astro away from the Jetsons, claiming that Astro is really his dog.
1x17 – Folge 17
George accidentally shrinks himself with one of Mr. Spacely's machines and can't get big again after the machine malfunctions.
1x18 – Folge 18
Jane's driving lessons turn dangerous when she gets involved with a gangster.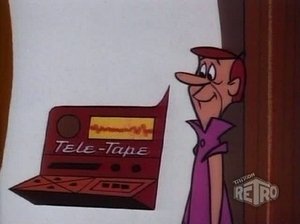 1x19 – Folge 19
George gets drafted into the U.S. Space Guard Reserves at Camp Nebula for two weeks. At first, George is hoping that this will allow him time away from Mr. Spacely. But George is dismayed to find Mr. Spacely to be his commanding officer!
1x20 – Folge 20
Jane signs up for a beauty pageant and is shocked to find that her husband is one of the judges.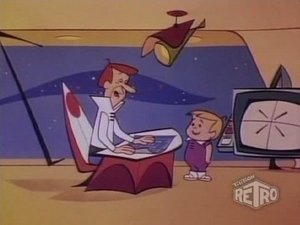 1x21 – Folge 21
George discovers that the building of one of their competitors was built six inches onto Mr. Spacely's land.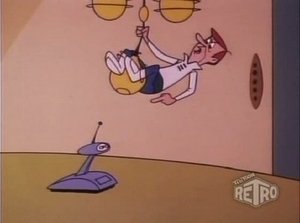 1x22 – Folge 22
Jane takes a vacation on a dude planet, while George tries to mind the house in her absence.
1x23 – Folge 23
George is convinced some mobsters are out to get him after he witnessed a robbery, not knowing it was really for a TV show.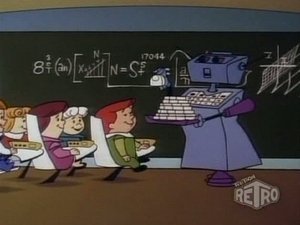 1x24 – Folge 24
Elroy becomes involved with a gang of mobsters.
Quelle:
themoviedb.org