1x1 – Pilot
Ted Crisp is the head of Research & Development at Veridian Dynamics, a top-line corporation, striving to make it to the top. Ted has an uneasy friendship with his boss, Veronica Palmer - she is always wanting something from him to add to the business, from bio-warfare pumpkins, to uncomfortable leather chairs. Dr. Lem Hewitt and Dr. Phil Myman are two research annalists that work in Ted's group and are always competing against one another to get ahead. Linda Zwordling is a young intern and test consultant to office-test the various experiments the lab puts out. Ted ...
Gesehen von 1 User
1x2 – Heroes
While Phil and Lem work in the lab to create "beef without cows," Veronica takes steps to ensure that Phil won't sue the company for his botched freezing.
Gesehen von 1 User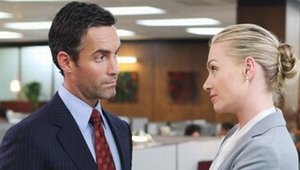 1x3 – Through Rose Colored HAZMAT Suits
When Ted's nanny calls out sick, he is forced to take his 10-year-old daughter, Rose, to work with him. There Veronica bonds with her and shows the youngster first-hand about running a corporation in the mean-spirited way. Meanwhile, Ted tries to find out where he stands with whatever romance he has with Linda. Linda's ex-boyfriend arrives in town and shows up at the office wanting to spend the day with her.
Gesehen von 1 User
1x4 – Racial Sensitivity
Veridian comes up with an extremely insensitive solution to a problem with its motion sensors that do not detect black people, and Ted finds out that Linda now has a boyfriend who is extremely likable.
Gesehen von 1 User
1x5 – Win Some, Dose Some
Ted throws his daughter's wrapping paper-selling contest when he finds out a handicapped girl is in the competition and to purposely lose a bet with Veronica. Meanwhile, Linda gets mad at Phil and Lem when they accidentally dose her.
Gesehen von 1 User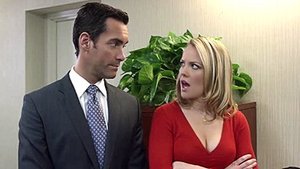 1x6 – Goodbye, Mr. Chips
A computer error may cost Ted his job, but Linda and the scientists in the lab come up with a plan to save him.
Gesehen von 1 User
1x7 – Get Happy
Veronica tries to not be so cold and Ted tries to befriend the older men at Veridian after the results of an office study are revealed, and Linda's request for individuality in the office has unexpected results.
Gesehen von 1 User
1x8 – You Are the Boss of Me
Phil and Lem invite Ted to Medieval Fight Club while his daughter is away with his ex-wife, but come to regret their decision. In addition, Linda comes to regret becoming Veronica's friend.
Gesehen von 1 User
1x9 – Bioshuffle
A toxic leak from a biocomputer creates tension between Linda and Ted when they are forced to share Ted's office. Meanwhile, the new shared workspaces creates a potential romantic interest for Lem.
Gesehen von 1 User
1x10 – Trust and Consequence
Veronica tries to convince Linda to be the scapegoat after Veridian is sued for a faulty product, and Lem finds out that Phil lied to him about going to M.I.T..
Gesehen von 1 User
1x11 – Father, Can You Hair Me?
Veronica has an awkward reconciliation with her father after she finds out that he has a year to live, and Ted wants Phil and Lem to rush testing for a hair-growing formula so he can give it to his dad for his birthday.
Gesehen von 1 User
1x12 – Jabberwocky
Ted steals money to give Linda a secret "green" project. When Veronica asks about the missing money, Ted tells her about a fictional, "revolutionary" project, which soon becomes the talk of the company.
Gesehen von 1 User
1x13 – Secrets and Lives
The office finds out that Veronica is secretly working as a magician's assistant, Linda sets up a date for Ted, and Phil tries to improve his self-confidence.
Gesehen von 1 User
Quelle:
themoviedb.com