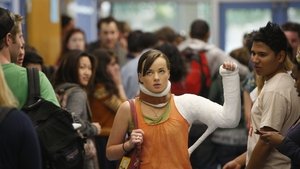 1x1 – Pilot
Wallflower Jenna's teen angsty journal and a bizarre accident result in her folks thinking she's suicidal. Plus she's in the cast from hell. How will this affect her school life? and more importantly her relationship with the cute but clueless boy hunk Matty.
Gesehen von 7 Usern
1x2 – Knocker Nightmare
Jenna finally gets her cast off and looks forward to regaining her anonymity but when a boob photo is sexted around school, that becomes unlikely.
Gesehen von 7 Usern
1x3 – The Way We Weren't
Jake and Lissa are having a three month anniversary party. When Matty tells Jenna she should come, Jenna is uncertain if that's way of saying he's ready to go public with their relationship.
Gesehen von 7 Usern
1x4 – The Scarlet Eye
Jenna's friends convince her that it's time to DTR - define the relationship. And what better time than at the big school bonfire?
Gesehen von 7 Usern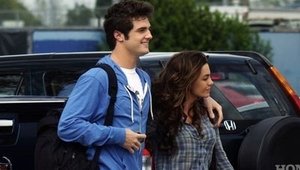 1x5 – Jenna Lives
Matty's told Jenna that he's not ready for a relationship. So why does he seem to be having one with new girl, Jenna Plus? And what's with the kid selling Jenna Lives T-shirts?
Gesehen von 7 Usern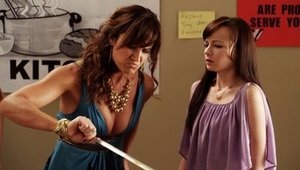 1x6 – Queen Bee-atches
Jenna's mother wants to become a member of the "PV moms" and so Jenna must make a good impression on the members. Unfortunately, the president of the PV moms is Jenna's nemesis Sadie Saxton's mom. And Matty has a gig there as a waiter.
Gesehen von 7 Usern
1x7 – Over My Dead Body
Drunk Driver awareness day is coming up at school and guidance counselor Val is determined that Jenna will play Dead Stacey in her play. Meanwhile Jake tries repeatedly to ensure that Jenna is not upset about their kiss.
Gesehen von 7 Usern
1x8 – The Adventures of Aunt Ally and the Lil' Bitch
Jenna's Aunt Ally comes for a visit and decides to throw a "kick-ass kegger" for her "Lil' Bitch". The thing is, things always get out of hand when Aunt Ally is around.
Gesehen von 7 Usern
1x9 – My Super Bittersweet Sixteen
Jake confesses to Liss that he kissed Jenna. After Liss slaps Jenna, Liss and Jake end up in Counselor Val's office.
Gesehen von 7 Usern
1x10 – No Doubt
Jake tries to make-up it up to Liss for kissing Jenna but when Liss allows Sadie to help set the terms, things get mean. Meanwhile Matty finally asks Jenna out on a real date but the remoteness of the restaurant has Jenna wondering is she's still his stealth girlfriend.
Gesehen von 7 Usern
1x11 – I Am Jenna Hamilton
Jenna is now officially with Matty and expects him to ask her to the Winter Formal. However, Matty only hints at it and Jake asks her properly. What is she to do? At the same time, Lissa decides to make Jake jealous to win him back.
Gesehen von 7 Usern
1x12 – Fateful
Jenna is going to the Winter Formal with Jake (plus Tamara), but Matty's friends convince him to fight for Jenna. Is there still time? Lissa has moved on from Jake, but Sadie still has her loyalty - or does she?
Gesehen von 7 Usern
Quelle:
themoviedb.com