1x1 – Ein außergewöhnliches Talent
Der hochtalentierte Jungdoktor Shaun lässt sein ruhiges, idyllisches Leben auf dem Land hinter sich und beginnt seine Arbeit an einem prestigeträchtigen Krankenhaus in der Stadt. Doch viele seiner neuen Vorgesetzten und Kollegen empfangen ihn mit Skepsis, denn der brillante Chirurg wurde einst mit dem Savant-Syndrom diagnostiziert, was sich in seiner Arbeit und Vorgehen zeigt.
Gesehen von 5 Usern
1x2 – Fremde Federn
Dr. Shaun Murphys Detailverliebtheit verkompliziert seinen ersten Tag im St. Bonaventure Hospital.
Gesehen von 5 Usern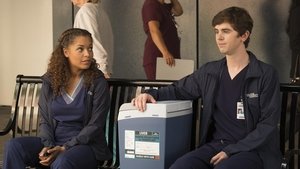 1x3 – Nur ein einziges Glas
Dr. Neil Melendez und Dr. Jared Kalumüssen feststellen, dass ein Patient nicht ganz ehrlich ihnen gegenüber ist, was ihn eine lebensrettende Operation kosten könnte.
Gesehen von 5 Usern
1x4 – Gegen alle Vernunft
Während ein Ehepaar eine lebensverändernde Entscheidung bezüglich ihres ungeborenen Kindes treffen müssen, hat Dr. Shaun Murphy einige Probleme, sich an sein neues Umfeld zu Hause zu gewöhnen. Er traut sich jedoch einen großen Schritt mit Blick auf das Verhältnis mit seinen Kollegen.
Gesehen von 5 Usern
1x5 – Die Hoffnung stirbt zuletzt
Murphy trifft auf einen jungen Patienten, der ihn an seinen Bruder erinnert und einige alte Erinnerungen in ihm weckt. Nachdem er dann noch erfährt, dass seine Eltern Shauns Kondition vor ihm geheimgehalten haben, fragt er sich, warum sie ihm nie die Wahrheit gesagt haben, was ihm wiederum schwer zusetzt. In der Zwischenzeit versucht das Team herauszufinden, warum viele ihrer Patienten schwere allergische Reaktionen haben, die teilweise tödlich enden.
Gesehen von 5 Usern
1x6 – Massenanfall
Dr. Shaun Murphy and Dr. Claire Browne devise an experimental procedure that can save the leg and life of a young groom, that is if his bride-to-be and parents can learn to work together. Meanwhile, Jared struggles to emotionally connect with his patient whose scars may prove too deep to overcome.
Gesehen von 5 Usern
1x7 – Der autistische Patient
Dr. Shaun Murphy has to confront prejudice from an unlikely source when he takes on the case of a patient with autism, and Dr. Jared Kalu has to learn to accept his limitations as a surgeon.
Gesehen von 5 Usern
1x8 – Apfel
During a robbery at the grocery mart Dr. Shaun Murphy is shopping at, his communication limitations puts lives at risk. Meanwhile, after Shaun's traumatic day, Dr. Aaron Glassman worries that he isn't doing enough to help Shaun.
Gesehen von 5 Usern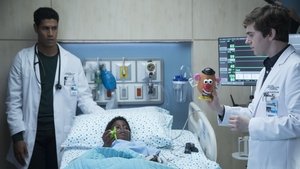 1x9 – Kleines Herz
As part of St. Bonaventure hospital's international humanitarian program, the team takes on the case of a young boy from the Congo who has severe congenital heart anomalies. Dr. Neil Melendez has doubts about the safety of the procedure, while Dr. Shaun Murphy works out the best course of action. Meanwhile, Murphy's latest encounter with his neighbor Lea has him confused.
Gesehen von 5 Usern
1x10 – Freiheit oder Tod
A charming young doctor puts a member of the surgical team in an awkward position at work; Dr. Glassman suggests that Dr. Shaun Murphy meet with a therapist.
Gesehen von 5 Usern
1x11 – Auszeit
Dr. Marcus Andrews enlists Dr. Neil Melendez on a very sensitive kidney transplant between a pair of twins; Dr. Shaun Murphy decides to take an impromptu trip with his friend Lea and leave his problems behind.
Gesehen von 5 Usern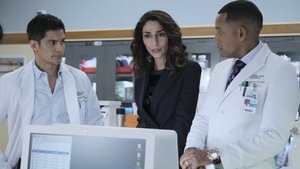 1x12 – Untrennbar verbunden
Die Zwillinge erleiden Komplikationen nach ihrer Operation, was das Team im San Jose Boneventure Hospital zu einer lebensverändernden Entscheidung zwingt.
Gesehen von 5 Usern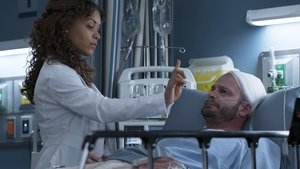 1x13 – Sieben Gründe fürs Lügen
Dr. Shaun Murphy suspects his patient is lying about the reason for her injury and makes a controversial assumption about her motives. Meanwhile, Dr. Neil Melendez's personal life could be affecting his work and, ultimately, his patients lives.
Gesehen von 5 Usern
1x14 – Im falschen Körper
Dr. Shaun Murphy is surprised to learn that his young cancer patient identifies as a girl while being biologically male. Shaun must quickly learn to understand his patient, her medical needs and how to work with her family, who all feel they know what is best for her.
Gesehen von 5 Usern
1x15 – Die Leber des Killers
Eine Patientin im Teenageralter hofft darauf, dass das Chirurgenteam ihr zu einem Leben verhelfen kann, in dem sie nicht ständig zu Hause bleiben muss.
Gesehen von 5 Usern
1x16 – Der Wert des Lebens
When the team treats a patient who has to decide between a dangerous surgery that could change his life or remain the same, he asks Dr. Shaun Murphy what he would if he had that same choice.
Gesehen von 5 Usern
1x17 – Alles nur für ein Lächeln
Dr. Shaun Murphy questions the need for an elective surgery that will allow his young patient to smile for the first time. Meanwhile, Dr. Claire Brown and Dr. Morgan Reznick discover that their patient lied about her identity.
Gesehen von 5 Usern
1x18 – Kunstfehler
The team at St. Bonaventure needs to quickly discover the truth behind a young college student's unexplained injuries before his condition worsens. Meanwhile, after losing his most prized possession, Shaun's distraction during a surgical procedure may end up risking more than just his job.
Gesehen von 5 Usern
Quelle:
themoviedb.com