1x1 – Ein außergewöhnliches Talent
The president of San Jose St. Bonaventure Hospital pleads his case to the reluctant board of directors to allow a young doctor with savant syndrome and autism onto their surgical staff.
Gesehen von 3 Usern
1x2 – Fremde Federn
When prejudices about his autism force Shaun to sit on the sidelines at St. Bonaventure, a colleague doesn't hesitate to claim credit for his ideas. Meanwhile, Dr. Murphy is relentless in saving a young girl's life.
Gesehen von 3 Usern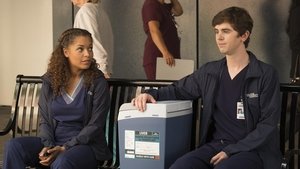 1x3 – Nur ein einziges Glas
Claire is learning to communicate with Shaun as they race to the hospital with a donated organ and perform surgery on the organ while on a freeway ramp. But the recipient winds up losing his entitlement to the kidney.
Gesehen von 3 Usern
1x4 – Gegen alle Vernunft
Dr. Neil Melendez and the team have to wade through legal waters when a husband and wife have to make a life-changing decision about their unborn child. Meanwhile, Dr. Shaun Murphy struggles to adjust to his new environment at home and makes a huge step forward with his colleagues.
Gesehen von 3 Usern
1x5 – Die Hoffnung stirbt zuletzt
At St. Bonaventure Hospital, Dr. Shaun Murphy encounters a young patient who looks eerily similar to his deceased brother, Steve. After discovering that the patient's parents have hidden his diagnosis from him, Shaun struggles to understand why the patient doesn't deserve to hear the truth about his own health. Meanwhile, the team can't figure out what keeps triggering their patients' increasingly severe allergic reactions and races to find the cause before another patient dies.
Gesehen von 3 Usern
1x6 – Massenanfall
An experimental procedure is devised to save a young groom. Jared tries to connect with a patient.
Gesehen von 3 Usern
1x7 – Der autistische Patient
Shaun has to confront prejudice from an unlikely source when he takes on the case of a patient with autism, and Dr. Kalu has to learn to accept his limitations as a surgeon.
Gesehen von 3 Usern
1x8 – Apfel
A robbery at a convenience store, an unforgettable first date and a cold blooded surgeon. A Nazi shooter, attitudes and apologies.
Gesehen von 3 Usern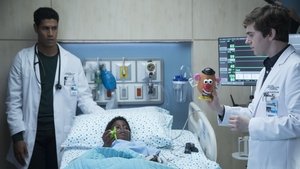 1x9 – Kleines Herz
As part of St. Bonaventure hospital's international humanitarian program, the team takes on the case of a young boy from the Congo who has severe congenital heart anomalies. Dr. Neil Melendez has doubts about the safety of the procedure, while Dr. Shaun Murphy works out the best course of action. Meanwhile, Murphy's latest encounter with his neighbor Lea has him confused.
Gesehen von 3 Usern
1x10 – Freiheit oder Tod
Members of the hospital's surgical team are initially impressed with a charming young doctor, but his true character puts one of them in an awkward position at work. Meanwhile, Dr. Glassman feels Dr. Shaun Murphy needs a little more support with his personal life and suggests he meet with a therapist. However, Shaun is determined to show him that he can do it on his own.
Gesehen von 3 Usern
1x11 – Auszeit
Dr. Marcus Andrews enlists Dr. Neil Melendez on a very sensitive kidney transplant between a pair of twins; Dr. Shaun Murphy decides to take an impromptu trip with his friend Lea and leave his problems behind.
Gesehen von 3 Usern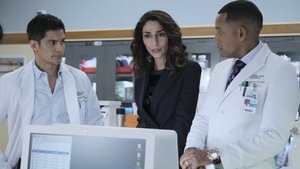 1x12 – Untrennbar verbunden
The twins suffer complications from their surgery forcing the team at San Jose Boneventure Hospital to make a life-changing decision. Meanwhile, Dr. Shaun Murphy returns to the hospital after his trip with Lea and decides he needs a more permanent change and gives Dr. Aaron Glassman his two weeks' notice.
Gesehen von 2 Usern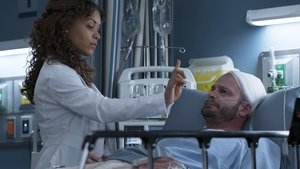 1x13 – Sieben Gründe fürs Lügen
Dr. Shaun Murphy suspects his patient is lying about the reason for her injury and makes a controversial assumption about her motives. Meanwhile, Dr. Neil Melendez's personal life could be affecting his work and, ultimately, his patients lives.
Gesehen von 2 Usern
1x14 – Im falschen Körper
Dr. Shaun Murphy is surprised to learn that his young cancer patient identifies as a girl while being biologically male. Shaun must quickly learn to understand his patient, her medical needs and how to work with her family, who all feel they know what is best for her.
Gesehen von 2 Usern
1x15 – Die Leber des Killers
A teenage patient hopes the surgical team can free her from a life of confinement at home; a young patient's perfectly matched organ donor is causing a moral dilemma for the parents and the patient.
Gesehen von 2 Usern
1x16 – Der Wert des Lebens
When the team treats a patient who has to decide about getting a dangerous surgery that could change his life, the man asks Dr. Murphy what he would do.
Gesehen von 2 Usern
1x17 – Alles nur für ein Lächeln
Dr. Shaun Murphy questions the need for an elective surgery that will allow his young patient to smile for the first time. Meanwhile, Dr. Claire Brown and Dr. Morgan Reznick discover that their patient lied about her identity.
Gesehen von 2 Usern
1x18 – Kunstfehler
The team needs to quickly discover the truth behind a young college student's unexplained injuries before his condition worsens; after losing a prized possession, Shaun's distraction during a surgical procedure may risk more than his job.
Gesehen von 2 Usern
Quelle:
themoviedb.com